Do you have pocket doors in your house?! Pocket doors are a fantastic way to create separation and privacy in small spaces like bathrooms. When I was growing up my grandparents had them and for some reason (probably because they were different than normal doors) I loved them. I loved their slide-y-ness. I loved their cute name (because isn't pocket one of the cutest words in the english language?!) At the time I didn't realize the space saving magic that was happening. But guys, my love for pocket doors runs deeper as an adult than it did as a child!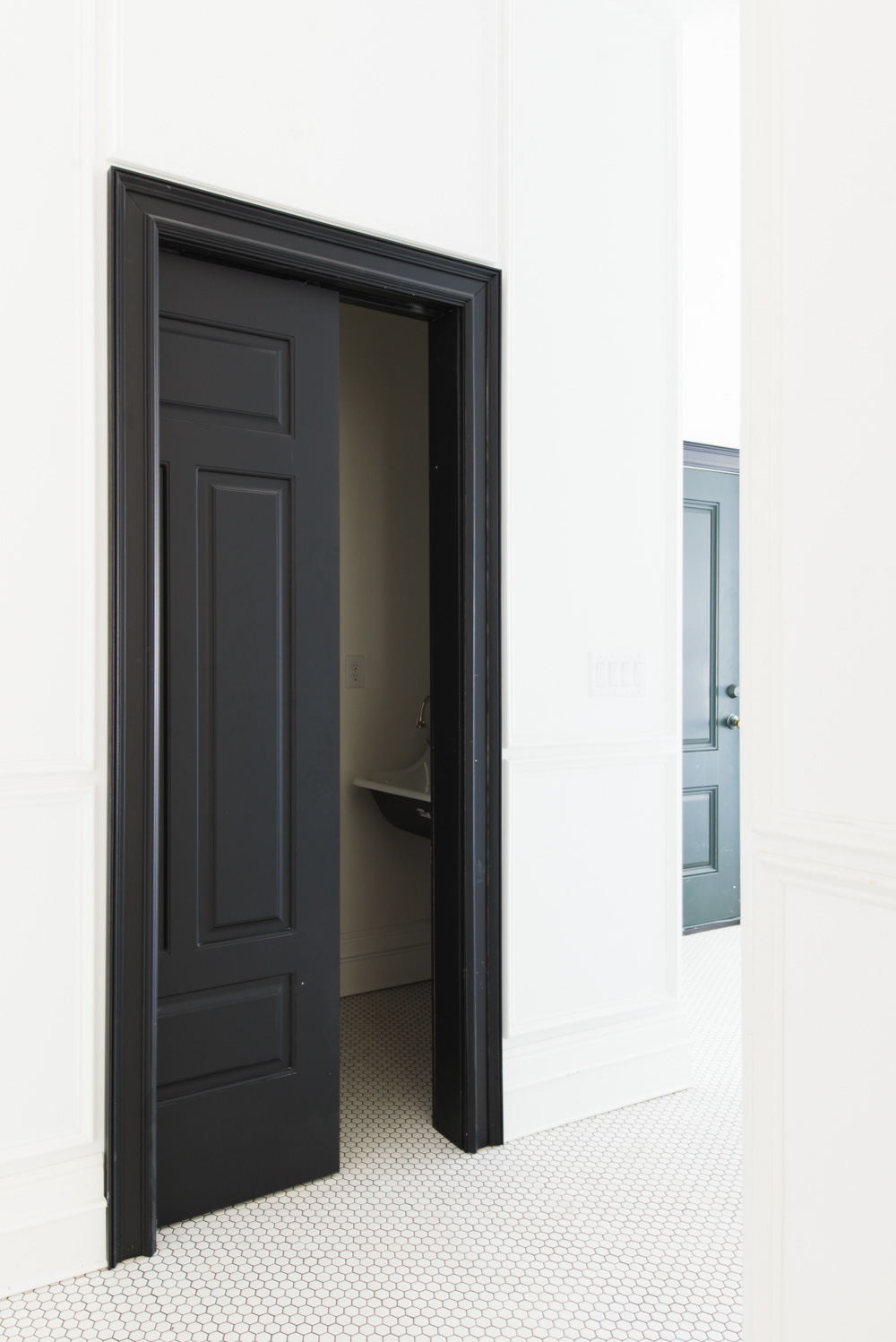 For those that are unfamiliar, a pocket door is a slab door that slides away into a recess in the wall as opposed to opening with hinges. When we were working on the floor plan for the Merc there were some serious quirks that we had to deal with. Putting a small half bath at the end of our wide hallway was one of them.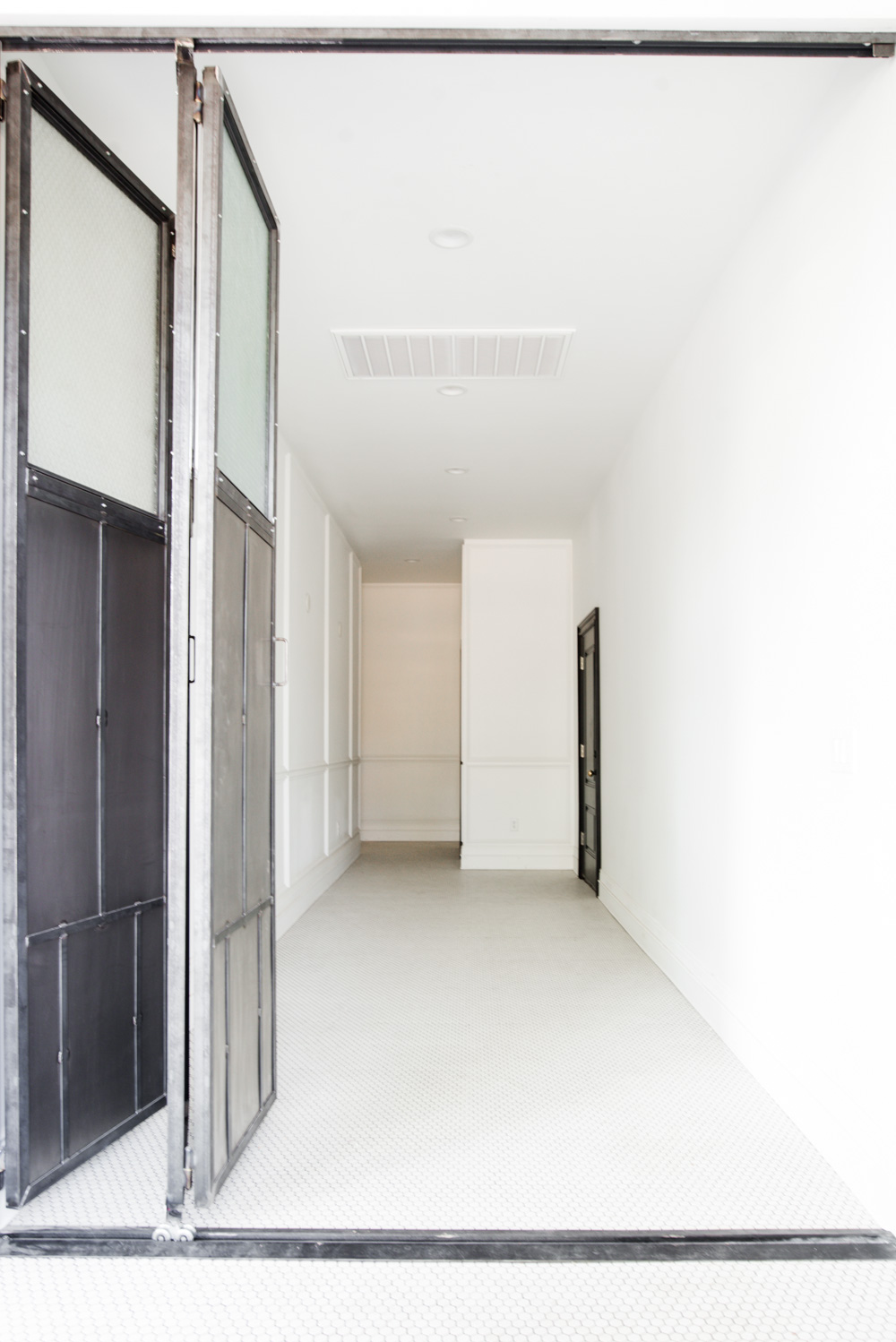 The hallway starts out super wide at 7′ (inspired by my friend Whitney's historic wide hallways) and then where the bathroom is, it narrows to 3.5′. Half bathrooms are so small, you never want to add an inward swinging door. Picture walking in, shoving yourself against the sink and thinking alllll of the skinny thoughts you can muster, and narrowly closing the door. ALL WHILE NEEDING TO GO TO THE BATHROOM. Not a great scenario. Because of the width of our hallway, an outward swinging door would have been not great either. So a pocket door it was!!
The most important thing that you need to know is that the pocket door frame needs to be installed while they are framing the walls. Because we didn't have our doors at that point we bought a standard size frame at Home Depot and then just ordered the door slab to be installed later. Don't make the mistake that I made with our closet doors! In the picture below, see how the wall is framed like a giant doorway without studs reaching to the floor? That is step one of framing for a pocket door!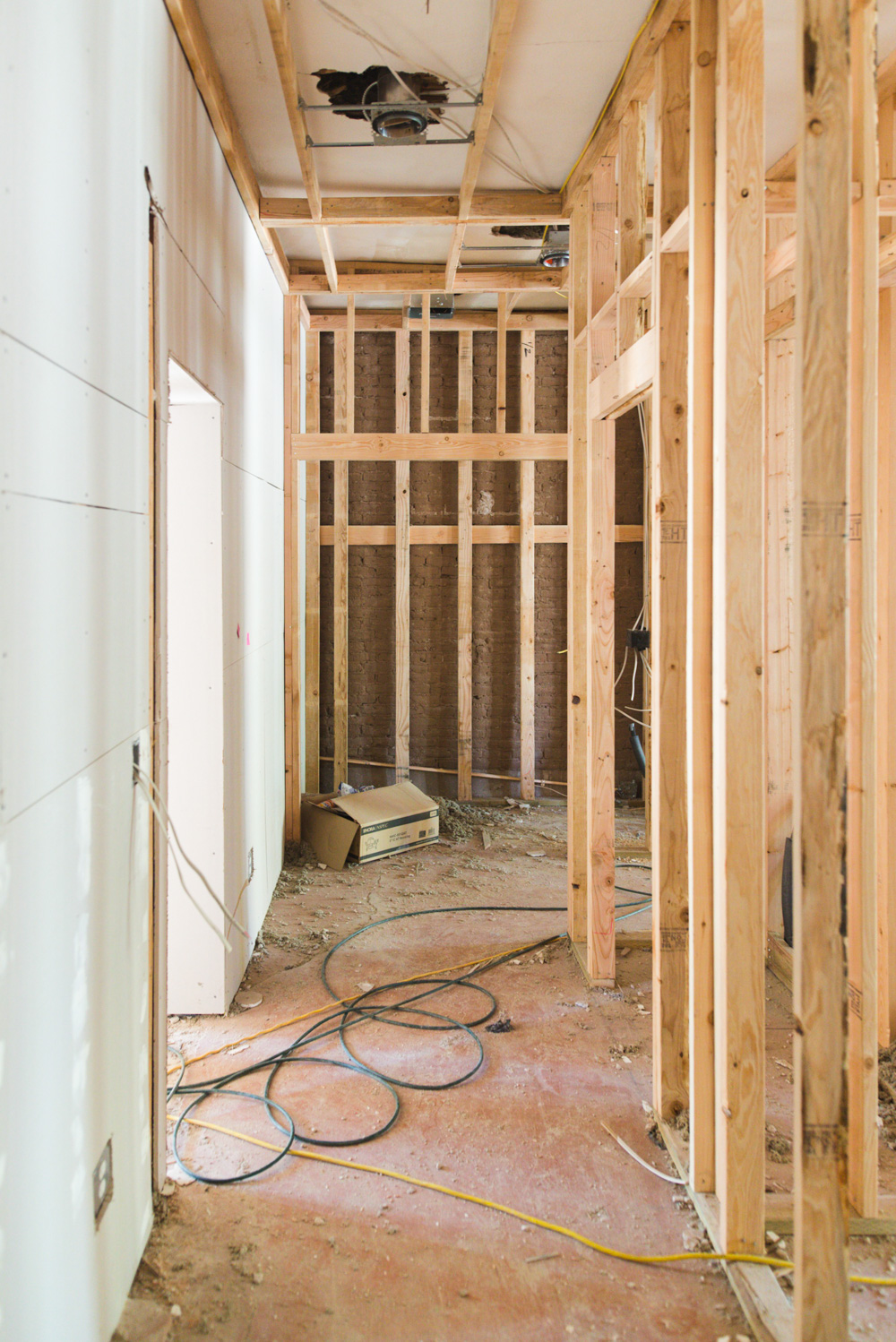 One quirky thing about pocket doors is that when you're hanging something on the wall that the door lives inside it needs to be a surface job. Otherwise you might screw your door open. Or shut. Or put it in just deep enough that it will scratch the paint off when your door is sliding. Or like Court, you might be nailing on a piece of trim and have it go into the door. 🤷🏼‍♀️ Not a huge deal but I had some big plans for towel racks on the pocket wall in our main bathroom that have to change now.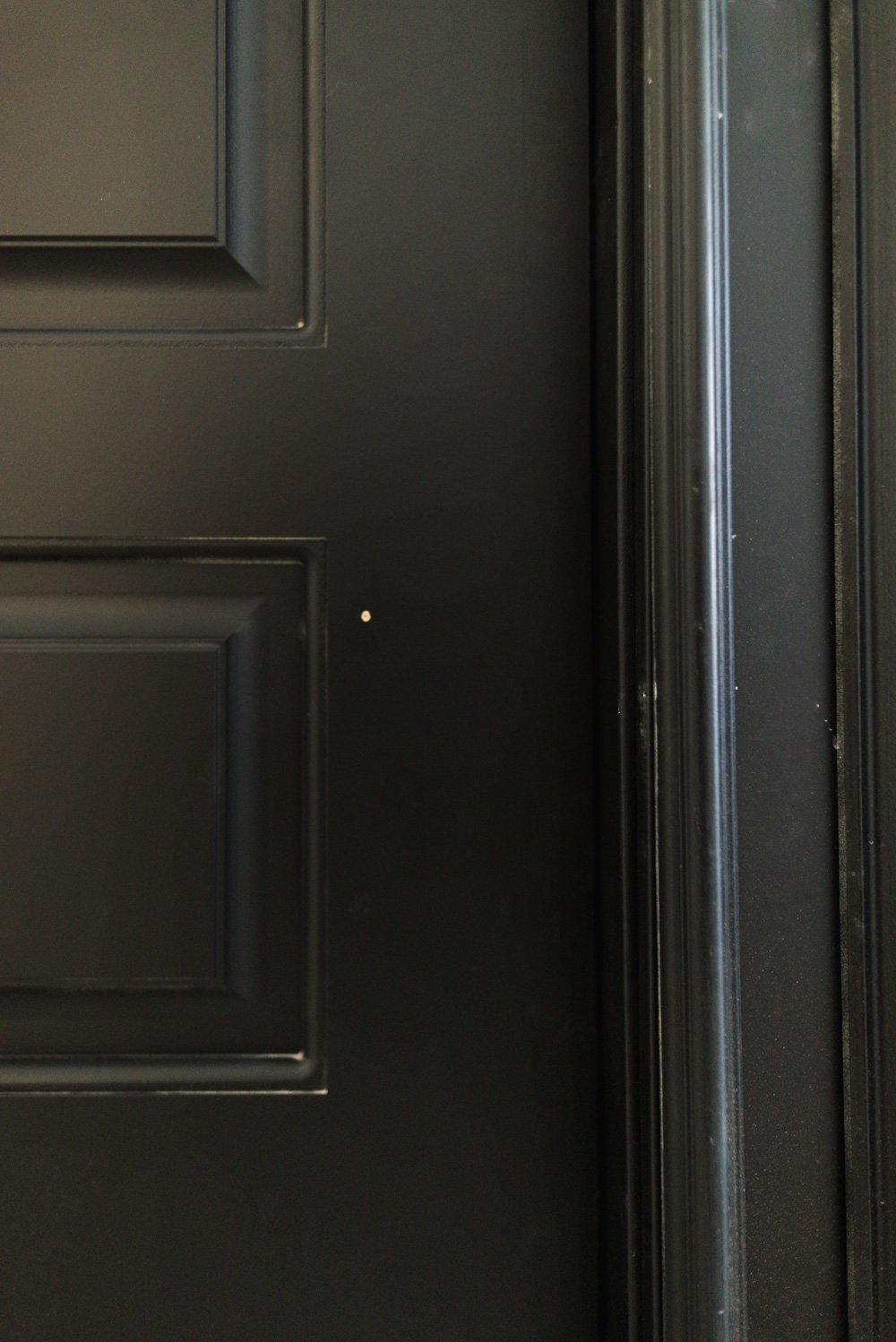 The other problem with pocket doors is that if there is an issue and the rolling mechanism breaks you have to take out the sheetrock to fix it. I had originally wanted to put a massive pocket door in our entryway (where we put the giant folding door) but after learning that little bit of info changed my plans.
I'm still on the hunt for locks and handles, so if you have any that you love I want to hear about them!!
You can get all of the info on our interior doors from Home Depot in this post!
The post The Mystical Powers of Pocket Doors and How We Used Them! appeared first on Vintage Revivals.
via Mandi at The Mystical Powers of Pocket Doors and How We Used Them!
from Blogger The Mystical Powers of Pocket Doors and How We Used Them!